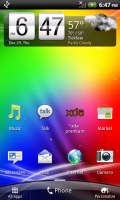 Posting, because I've lost 6 hours to figure out how to flash it… ROM's topic is quite messed-up – so, noobs like me may have some problems :-)
This tutorial should work for any zip-ROM package prepaired to install from CMR (Recovery).
UrDroid it's nice Android 2.3.5 ROM for our Leo (HTC HD2) device which I chose from many on XDA Forums, similar to HTC Sensation with HTC Sense 3.5, very stable which not rage people :-). Works very well.. Here's link to it and this is tutorial how to install it:
Before.. I'm not taking responsibility of bricked devices! RTFM (Read The Fucking Manual) of any flash step. Make backup right now. Battery should be maximum charged in case of any problems (MagLDR doesn't support charging on turned off device! / You need charging? use cLK loader) – so you should have about 3 hours of non-stress flashing.. after that hours I'll start to worry ;-)
Update 2012-03-14, 17:00 (UTC+1)
I've updated that post, btw Carl wrote tutorial about flashing his rom, you may find it in rom's topic.
What do you need:
HTC HD2, EUrope version or TMOUS – T-Mobile US
Charged battery (more = better; at least 60%)
USB – microUSB Cable
Minimum 2GB microSD Card
Ethernet to download about 400MB data
(optional) microSD Card reader (if you don't have it – download all needed files before processing and put them on card using Storage Mode in Windows Mobile / Android / etc. ; read whole tutorial before doing anything)
Menu
Preparing from stock WinMo device / I'm n00b
Make whole backup – of system settings, contacts, SDCard
Change SPL to HSPL 2.08. If you have incompatible SPL needed to flash HSPL 2.08 – reflash your phone with stock, original WinMo 6.5 flash (eg. version 1.66) by SDCard method – it will replace your current loader to SPL 1.42 which is ok, after that: flash HSPL).
Update Radio to latest (current: 2.15) version. You're doing this with same method like in step 1 or by Custom_RUU.exe.
Now is good time to quit, after this step your data will start disappearing ;-)
Clear device memory with radio-less Task29.
Installing loader with HD2 NAND Toolkit + Recovery
Download HD2 NAND Toolkit
If you want to flash cLK: Download and install Android drivers (without them you won't move forward). You must install it manually by "Update driver" in device manager in Windows with connected device.

If link is dead: find mirror (it's 12MB package) or try big package from android site.

Select MAGLDR Update Recovery or cLK Install Recovery
Start device to HSPL mode (turn it on with Volume Down button pressed)
Click Install MAGLDR or Install cLK
Reboot now

Hold power button if you choosed MAGLDR – go to USB Flasher mode
Hold back button if you choosed cLK – should show only some text, somewhere "fastboot" should appear ;-)

Now select MAGLDR Repartition or cLK Repartition
Set proper partition sets
Click Repartition button. If cLK stuck and nothing happening: you have not installed drivers from above.
Manual MAGLDR flashing (if above failed)
Flash MagLDR, current version is 1.13. MagLDR will boot Android kernel.

Use prepaired by you chef MAGLDR+CMR zip with arranged partitions set:

UrDroid FULL ROM: "MAGLDR_CWR_5.0.2.6_flash_6_220_5" (partition set 6/220/5)
UrDroid LITE ROM: "MAGLDR_CWR_5.0.2.6_flash_6_180_5" (6/180/5).

It's very important, device won't boot on lower partitions that they should be! (also you may use HD2 Toolkit here to repartition). You may skip now 2nd and 3rd step and go to partitioning SDCard.

Turn on device holding power button (most right button, hold it until you see MagLDR menu). By volume down/up buttons navigate to USB Flasher mode, confirm it with call button (most left). Connect device to PC, wait for install drivers.
Flash ClockMod Recovery (CMR), current: 1.3.
Manual cLK flashing (if above failed / not finished tutorial)
Download and install Android drivers (without them you won't move forward). You must install it manually by "Update driver" in device manager in Windows. If link died: find mirror (it's 12MB package) or try big package from android site.
Flash cLK like it's written in that topic:

Turn on HSDL (start device with pressed Vol Down button). Connect it to PC. Start Custom RUU, forward wizard.
or put nbh file from cLK package to root SDCard, rename it to LEOIMG.nbh, start HSPL

Flash CMR. Don't know what to do next, here's "old" CMR topic with nice tutorial ;-)
Remember to set you NAND partitions, you're at you own :D
Partitioning SD Card (needed for HD2 UE)
For HD2 TMOUS is optional.
Start recovery (cLK: hold home button on start / MAGLDR: hold power button on start, navigate in menu to recovery, start it).
In recovery navigate to advanced menu, there's option for partitioning. Create 1024MB userdata partition and if you want swap partition (swap is not required). Give it while (2 minutes). Backup your card before this process, It will format partitions.
Done, SD Card is ready for installation.
If you want, you may use external application to partitioning with SDCard Reader. First partition (for user data) should be in FAT32 filesystem, SDExt (for Android) should be ext2, ext3 or if ROM supports: ext4.
Installing ROM
Download UrDroid ROM zip (FULL or LITE), latest version for 13 march 2012 it's 1.9. All versions should be here.
Put that zip to root SDCard
Start recovery (like I wrote in partitioning above)
Choose Install Zip from SDCard, choose ROM zip, start installation
Read what's on screen, answer if installer ask for anything, give it about 10 minutes
Restart device.
First boot and testing
Start device if you not restarted it after installation. Give it about 20-25 minutes for first boot.
If it starts: you may use it right now and have fun.
If it not starting over 30 minutes: you probably missed something. Try again or go back to Windows Mobile.
Fixing random bugs
If something not working just for you, use recovery to (one step, then test):
Wipe cache partition / Wipe dalvik cache
Fix permissions
Factory reset if above not helps
At last: try to format NAND partitoins, SDCard, Install fresh ROM again
Addons
Download some addons for UrDroid if you want. Check ROM's topic and find something interesting.
I like and recommend to download "Sensation_xl_UrDroid_Extended_Quick_Settings_EU_V1 .2.zip" and "UrDroid_Ultra$onic _1.5_Percent_Stock_Look_Battery_EU_TMOUS.zip". First will extend quick access menu in notifications bar, second will show percent of battery status on notification bar.
You installing them same like ROM – from recovery, instal zip from sdcard.
Updating kernel
UrDroid use marc1706 Desire kernel. All kernel updates should work with your current ROM without breaking it. New versions may give some advantages, you should read changelog and user comments.
At now UrDroid 1.9 package contains marcs 0.1.9 kernel version. You may update it to 0.2.0 by doing this steps:
Put new downloaded kernel zip to rood SDCard. Also put there your current version if new won't work
Start recovery. Wipe cache partition and dalvic cache.
Install kernel in same way like ROM.
Restart device, give it longer while.
If it not starts, try "Fixing random bugs" steps, at last: install your old kernell
AAAAAAAAA!!!!!!! I want WinMo back!
Download WinMo 1.66 or newer ROM.
Put nbh file to root SDCard, rename it to LEOIMG.nbh.
Start device with pushed Volume Down button.
Push power button to start flashing.
Follow instructions
You will turn you device almost to factory defaults (SPL will back and replace HSPL, Radio will downgrade to 2.07…). If WinMo 1.66 doesn't work – try newier version. You may also update radio like in top of tutorial to get some advantages from update.
Good to know:
Don't use Task29 too often. If you have badblocks in NAND you will expunge informations about them, that may cause problems in future. If you want to perform similar operation: use recovery and format device storage.
HTC HD2 is cool :-)
Tagi: Android, cLK, ClockWorkMod Recovery, HSPL, HTC, HTC HD2, MagLDR, XDA